You can heal your pets at home safely and easily, and save money at Vet the today...
"You're About To Learn Secrets
That Most People Will Never
Know About Healing Their Pets"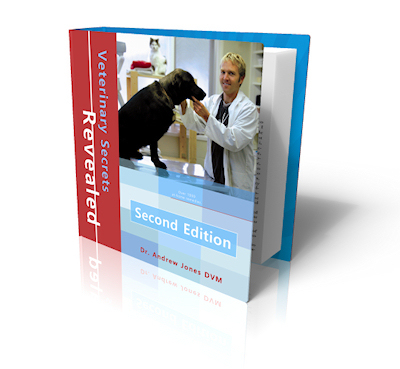 Dr. Andrew Jones, DVM
December 1, 2021
Dear fellow pet lover,
If you're not ready to make some simple changes to the way you provide veterinary care to your pet, beginning today...
...your dog or cat could be seriously ill and live a "shortened" life!
Here is How I know:
My dog died young, only 8 years old. He was a specimen of health, given a ton of attention, exercised three times a day, fed only Veterinary approved food, and given all his vaccines...
'Hoochie'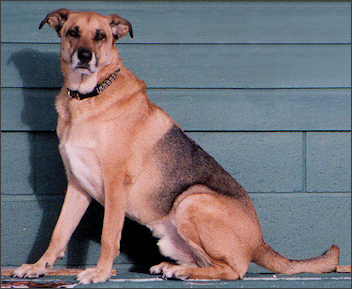 Hoochie passed away in my arms from a massive tumor bleed at 12:02pm on April 12, 2003 - the saddest day of my life.
I asked myself... why?
I thought that he was incredibly healthy.
But I later discovered I may have contributed to his death, because I believed ONLY in conventional veterinary medicine. You see, I am a Veterinarian.
I'm Dr. Andrew Jones, and I have practiced Veterinary Medicine for 20 years. Over the past 2 decades I have treated thousands of pets for a variety of problems, and until recently I owned the Nelson Animal Hospital in Nelson BC, Canada.
But, my beloved dog Hoochie is gone.
You are fortunate... it is not too late for you and your pet, if you read on and find out exactly what you must do now.
Pay Close Attention
Today, I'm going to show you why conventional medicine may be harming your pet, and step-by-step what you must do to protect your dog or cat.
Most likely you've heard about or your pet has experienced negative side effects that some Conventional Medication can cause. But fortunately, conventional medicine isn't the only solution.
And although Alternative Pet Health Care has grown over the past few years, the simple truth is that very few pet owners know anything about it or believe that they can do anything at home to help their pet.



STOP AND READ THIS
Lock the door, Unplug the phone, and do whatever you can to have 10 undivided minutes... Get ready to read about how you could be saving the life of your pet starting now!
"I began to notice something unusual..."
Slowly, I began to notice something unusual about Hoochie. He just wasn't the same. He was reluctant to go for his morning dog walk, which was always the highlight of his day.
I dismissed it as him feeling a bit off or maybe a touch of arthritis... but it didn't pass. In fact, it got worse.
I eventually did a blood test on Hoochie, thinking that he had a tooth infection. However, much to my horror, I quickly found out that he had a spleen tumor.
I performed surgery on Hoochie right away, and removed the spleen tumor. But it was too late - the cancer had already spread to his liver, and I knew that very soon, he would die.
How did an apparently healthy mixed breed dog die so young?
I did all the "right" things - or so I thought. After grieving, I came to realize that I had played a role in him dying at too young of an age.
I came to question exactly what I did to my own pet - and what was I doing to other people's pets.
Eventually, I realized the obvious - that most Veterinarians (including me as well, at the time) are just not "getting it" - that in the process of trying to heal pets through technological advances, we are actually making them sicker.
There are 3 mistakes that I made that contributed to Hoochie's early death...

...are you making these same mistakes with your own dog or cat?
Mistake #1:

Vaccines - Given Every Year
I gave Hoochie his combination of vaccines every year until he died. I advised pet owners to vaccinate their pets yearly, so I gave my own dog the same vaccines. The vaccines likely contributed to him developing spleen cancer.
"Recent vaccinations with single or combination modified live virus (MLV) vaccines are increasingly recognized contributors to immune-mediated blood diseases, bone marrow failure, organ dysfunction and cancer."

Dr. Jean Dodds, one of the world's foremost experts in canine vaccine reactions.
Mistake #2:

Diet - He Was Fed An All-In-One "Complete" Veterinary Food
Hoochie was fed a Veterinary approved food exclusively, yet he developed Spleen cancer at the age of 8, and died shortly after. The "Bright Minds" in the pet food industry have created unwell pets, producing increasing incidences of diabetes, cancer and allergies.
Remember the Pet Food Recall of 2007? This is the trust that we place in pet food companies... we assume that our pets' food is safe, that the 'powers that be' have our pets' best interest at heart. In the case of those companies, that is definitely not the case.
The food that Hoochie ate was filled with chemical preservatives. The unnatural preservatives played a role in the cancer.
"BHA and BHT are known to cause liver and kidney dysfunction and are banned in some European countries. Ethoxyquin is suspected of causing cancer, and that propylene glycol, another common pet food ingredient, causes the destruction of red blood cells."

Dr. Wendell O. Belfield, author of 'How to Have a Healthier Dog'.
Mistake #3:

Conventional Medication - He Was On Anti-Inflammatories
Hoochie was showing signs of arthritis, so I had been giving him a conventional veterinary medication. He responded to the medication, but it likely played a role in damaging his organs, making him susceptible to cancer.
These are also known as Non Steroidal Anti-inflammatories or NSAIDs. Here is what Dr Stephen Sundlof of the Food and Drug Administration (FDA) has to say about them...
NSAIDs carry a risk of side effects, or adverse reactions. Most adverse reactions are mild, but some may be serious, especially if the drugs are not used according to labeled directions. Some reactions result in permanent damage or even death.

"It's important for pet owners to be aware of the risks and benefits of all drugs, including NSAIDs, so that they can make informed decisions about their pets' health care," says Sundlof. "Owners who give their dog NSAIDs need to know the side effects to watch for that indicate their pet needs medical attention."

The most common side effects from NSAIDs include vomiting, loss of appetite, depression, lethargy, and diarrhea. Serious side effects include gastrointestinal bleeding, ulcers, perforations, kidney damage, and liver problems.

Stephen F. Sundlof, D.V.M., Ph.D., Director of the Food and Drug Administration's Center for Veterinary Medicine (CVM).
A very popular NSAID is Rimadyl. It has resulted in all the above reported side-effects. In fact it was first created as a human anti-inflammatory product, but due to the incidence of serious liver side effects in clinical trials, it was pulled from the human market. The drug company, Pfizer, then brought it back to life in the pet industry.
It has caused a huge number of serious side effects in pets, including death. Here is what Chris Adams of the Wall Street Journal had to say...
Since Rimadyl's 1997 launch, the FDA has received reports of about 1,000 dogs that died or were put to sleep and 7,000 more that had bad reactions after taking the drug, records and official estimates indicate. The FDA says such events are significantly underreported.

Chris Adams, Wall Street Journal
I, a knowledgeable veterinarian with over 15 years of experience, contributed to my pet's death.
I came to question exactly why I believed in utilizing only "conventional" veterinary medicine to heal pets.
I questioned all the "scholarly information" that I had been taught in veterinary school.
I did some deep soul searching...
WHY did this happen?
It happened because I didn't question modern veterinary medicine, and I gave Hoochie harmful medication, I fed him "Veterinary approved" food, and I injected his body yearly with cancer inducing Vaccines.
WHO was to blame?
I gave him the medication, the vaccines and the carcinogenic food. Yes, my profession, the large drug companies and the food companies played a role. But, I should have known better.
HOW can I prevent this from happening again to another pet?
From the anger, the pain and the despair, a switch happened.
I began to read, to research, to discuss with other colleagues the pitfalls of the current state of modern veterinary practice, and I began to write a book.
I spent thousands of hours exploring ways for pet owners to administer first aid, improve behavior problems, and even treat illnesses using readily available household products.
I began using my "newer" style of medicine in my practice, and my patients benefited tremendously from this research.
My book was first published on-line, in digital (e-book) format, in May of 2004 - about one year after Hoochie died.
The book is called "Veterinary Secrets Revealed."
And now the Second Edition of Veterinary Secrets Revealed is available - and it's been updated for 2012! My second edition has built upon the foundation of the first one - and it's now a HUGE Manual, at 500 pages long.
Easily Care For Your Pet At Home - Treat Illnesses Confidently And Competently, Using Simple Techniques And Inexpensive Natural Ingredients...

...And Save Thousands Of Dollars In Vet Bills!
Veterinary Secrets Revealed allows dog and cat owners to care for and treat their pets on their own. It doesn't matter what category your pet's problem fall under...
Diseases and Illnesses, such as cancer, usually treated with conventional medications that make your pet feel worse rather than better.
Ailments like back spasms or arthritis that reduce your pet's ability to enjoy favorite activities.
Behavior problems like aggression that can lead to dangerous situations in and outside your home.
Veterinary Secrets Revealed will provide all the information you need to keep your pet healthy or to improve the health of your sick pet.
And, Veterinary Secrets Revealed does it without medical jargon, without complicated procedures, and without an eye on the pharmaceutical companies' bottom line (yes, we Vets face the same pressures as human doctors.)
Here's what you DON'T need to use Veterinary Secrets Revealed:
A degree in medicine (animal OR human) - the treatments are clearly explained and the steps are simple and easy to follow so you can focus on comforting your pet
A dictionary of medical terminology - the descriptions are easy to understand and are in everyday English so there's no risk of confusion.
An ability to transform into one of the doctors on ER - I've made the descriptions so simple, you don't even have to watch ER to be able to treat your pet!
Here's what you DO need:

The

willingness to comfort and care for your sick or injured pet

so you can alleviate pain or begin treatment before you even reach your Vet. In some cases, this

could be a matter of life or death for your pet.
So if you meet or exceed these simple requirements (and really, what loving pet owner doesn't?) then you're ready for this...
Simple, Proven System Tackles Your Pet's
Behavior And Health Problems - Often With
Items That Are Already In Your Home
Of course, every pet owner wants to care for a sick or injured pet.
But too often, they don't know how. Veterinary Secrets Revealed will break down the treatment options in a step-by-step process for common ailments so you can:

End your Pet's Diarrhea FAST. Use a common people remedy or choose from other solutions (page 89).
Help your Pet's Leaking Bladder. Rid your home of the embarrassing stains and smells in your home, and rid your pet of the anxiety caused by doing something "bad" even though it was - until now! - uncontrollable (page 64).
Find effective solutions to battle your Dog or Cat's Cancer. I'll show you how to get your pet's metabolism working to defeat cancer's progression (page 66).
Find the specific massage points for Hip Dysplasia... if it is difficult for your pet to even get up, then find help with this massage (page 125).
Manage your Pet's Diabetes. Discover an inexpensive, safe supplement which can lower your diabetic pet's insulin requirement (page 86).
Relieve your Dog or Cat's Constipation. Constipation can be painful and dangerous. Not only will you know how to relieve your constipated pet, you'll also learn how to prevent it from happening again (page 77).
Reduce Vomiting episodes. There are many reasons your pet vomits - pinpoint the cause and choose the best remedy (page 189).
Finally ease the Ache in your Pet's Back. Your pet will romp and play more without constant back pain (page 59).
Eliminate painful Ear Mites safely and naturally. Ease your pet's pain simply with common pantry items (page 96).
Treat your Pet's Dental Problems. Bacteria from your pet's teeth can get into the bloodstream and cause serious heart problems - so keep the teeth clean (page 83).
Prevent Pancreatitis or speed recovery from an attack. Quick action is necessary to save your pet's life - here are 2 homeopathics that you can use in any attack of pancreatitis (page 169).
At last, treat your Pet's Arthritis at home. The top supplements to use now AND human medicines that are safe and effective (page 53).
Treat your Hyperthyroid Cat. If your older cat is eating more, but losing weight, then he may have Hyperthyroid disease - I reveal 2 herbs effective in treating hyperthyroid cats (page 136).
Veterinary Secrets Revealed has already proven to be a BIG HIT amongst empowered pet owners.
Thousands of you are seeking better ways to care for your pets - and my book is showing you how.
Here are just a few of the hundreds of wonderful comments I've received for Veterinary Secrets Revealed...
Veterinary Secrets Revealed can show you how to:

Strengthen your Pet's failing Heart. Simple supplements to prevent and treat heart disease so your pet can stay active and happy (page 121).
Soothe your Pet's irritating Cough. You'll be amazed and thankful for the first restful sleep you've both had since the cough started (page 79).
Cure red, discharging, Irritated Eyes. Use this healing eye herb which can treat most eye infections WITHOUT a prescription (page 101).
Find answers for Oily, Itchy Skin on your Dog. Use this common household vitamin if your pet has a greasy coat (page 162).
At last discover safe, effective options for Kidney Failure. You will discover a Chinese herbal formulation that has been very effective in combating ailing kidneys (page 143).
QUICKLY give relief from Hot Spots. Do this first if your pet has a hot spot - apply a common kitchen drink two to three times a day (page 131).
Instantly calm Aggressive Pets. Do this so they won't hurt others or get themselves into a dangerous fight with another aggressive animal (page 42).
Treat an Abscess. I show you exactly what to do first to heal it at home and avoid your vet (page 37).
STOP Stool Eating! Who wants dog-kisses from a poop-eater? Learn what ingredient you have in your cabinet that stops dogs from eating their own poop (page 94).
Speed up your Pet's Weight Loss. Add this supplement to your pet's diet and watch the pounds disappear (page 164).
Heal Pad Cracks and Paw Problems. If your pet has problems with their pads, then check this out - a topical vitamin for pad cracks and paw problems that really works (page 167). Heal your pet's paw problems today.
Safely treat Thyroid Disease. Learn the difference between hyperthyroid and hypothyroid disease and how to treat each effectively (page 136).
Calm Your Senile Pet. Alleviate senility problems like insomnia and pacing at night using a safe and gentle supplement (page 178)
Restore your Pet's Liver health. Just like humans, our pets need a healthy liver for a healthy life. Learn to spot liver disease signs early, then use easy remedies to improve liver health - cook with this herb that will help to regenerate the liver (page 149).
To read more of what other people have to say about Veterinary Secrets Revealed, click here.
Easily Care For Your Pet At Home Using Simple Techniques And Inexpensive, Natural Ingredients
With Veterinary Secrets Revealed, you will be delighted by how much you will learn and how much you can help your pet.
Learn...
How to Stop Worms that keep coming back. This food product works great for pets with recurring tapeworm infections (page 192).
A natural solution to Treat Hairballs in Cats. This juice can break them down and stop the regurgitation (page 119).
How to Treat your pet's Fever. IS your pet burning up? These are MUST have remedies to treat a Fever in dogs and cats (page 104).
A safe natural option for Treating Ringworm in Dogs and Cats. PLUS, what causes it and how you can prevent it from reoccurring (page 175).
What to do if your Dog been diagnosed with Cushing's Disease. Use this to lower the hormone that causes this common ailment (page 134).
What do you do if your Pet has Itchy, red and irritated Skin. Use a common over the counter medication (page 129). Heal your pet's itchy skin today.
How to deal with Noise Phobias. If your dog shakes and hides during thunderstorms, then she has a noise phobia. A simple, safe home remedy found in your fridge can solve thunderstorm phobias (page 159).
What you can do to Stop Dandruff. Have flaky, dead skin all over your house? A surprising shampoo to eliminate dandruff in your pet (page 81).
What to do if your dog is a "Scooter". How to finally solve your pet's anal gland problems at home (page 49).
How to Dust Fleas Away - literally. Forget toxic chemicals, choose from a variety of remedies to control and prevent fleas (page 108)
How to safely Treat Skin Allergies with a magical 10-in-one Chinese Herb. Your pet will be thrilled at the relief from constant scratching, licking, & chewing (page 44)
What to do if your pet has Lumps or Growths. Here is how you can stimulate your pet's immune system to get the to resolve lumps and bumps and avoid surgery (page 153).
How to deal with Mange. You can avoid the serious and toxic veterinary medication with this topical herb (page 156).
How to cure Separation Anxiety. Make your pet feel safe while at home alone and end destructive behavior (page 180)
What to do for the Head Shaking & Ear Scratching pet. Put an end to ear infections with this weekly cleanser from your kitchen cabinets (page 96).
And that's just a hint of what's inside - there are over 1,000 remedies to these and other ailments in Veterinary Secrets Revealed, Second Edition.
Table Of Contents
Want to see what's inside? Click below:
Table of Contents of Veterinary Secrets Revealed, Second Edition.
The feedback on Veterinary Secrets Revealed has been wonderful, and I am very grateful to hear how much of an impact Veterinary Secrets Revealed has made. My email has been literally flooding over with questions and great comments from fellow pet lovers.
My colleagues, on the other hand, have not responded so well. I'm not going to 'get into it' in this letter, but I went through a legal battle with my local Veterinary Association about my book, websites and daily newsletter. In 2010, I resigned from my Veterinary College (in British Columbia, Canada), because I refused to stop publishing my newsletter and book - I felt very strongly that they were impeding my freedom of speech. You can watch the Global News story on why I resigned here: Dr. Jones Resigns.
Here's a question many people have asked me...
Why Did You Write This Book?
It's simple. I've seen too many pets and their owner's suffer because they relied exclusively on their Vets to receive medical care.
Now let's be clear - I'm not saying that the Vets provided substandard medical care. There are many reasons that pets suffer when a Vet is the only care option. Sometimes pet owners...
Delay bringing their pet in for treatment because the pet becomes ill after hours.
Rely exclusively on harsh drug treatments because they (and their vets) are unaware of effective, gentle, natural ways to treat their pet.
Discontinue treatment for chronic illnesses because it's complicated or expensive.
Aren't able to afford an office visit and or follow up treatment.
Another reason is that I absolutely love empowering pet owners like you with my book and with what I teach. It's something that I enjoy doing every day - if you haven't already, sign up for my newsletter (see below) and you'll quickly find out what I stand for (check out my blog as well).
If you understand even a little of what Veterinary Secrets Revealed can do for you and your pet, then you'll naturally jump at the opportunity to ensure that you can...
Instantly decide on a course of action for your ailing pet - so you can ease pain and start treatment immediately.
Easily afford natural and effective remedies regardless of your financial situation - so your pet doesn't have to go without treatment.
Quickly diagnose your sick or injured pet - so you can instantly know if you can administer care yourself or if you should seek medical help immediately.
Immediately begin regimens that have been proven to halt and or prevent diseases such as cancer and diabetes - so your pet can live a long and healthy life with you...
You will be delighted by how much you will learn from Veterinary Secrets Revealed.
It may even help you save your pet's life some day!
Imagine The Look Of Gratitude When You Can Soothe And Heal Your Pet Instead Of Standing By...
And if your pet is in discomfort right now, you're just two minutes away from being able to offer the relief your pet has been hoping for.
In order to reach as many devoted pet lovers as humanly possible, "Veterinary Secrets Revealed" is a digital book (e-Book) that can be delivered to you in a matter of seconds in e-Reader (iBooks for iPhone/iPad, Kindle, Nook, Sony, Kobo and all e-Readers) and in PDF (for use on all computers) format.
That's right, as soon as you submit your order on our secure server (your payment details are absolutely safe) you'll have immediate access to the information that can improve the quality of your pet's life, and maybe even prolong it.
Veterinary Secrets Revealed is indispensable for any pet owner because the
Instructions Are So Amazingly Easy To Follow,
Even A Child Could Help An Ailing Pet
All pets deserve a fighting chance when illness or injury strikes, so I've put a lot of thought into the design of Veterinary Secrets Revealed. The book is 500 pages long, and is packed with vital information on your pet's health...

Topics are listed in the table of contents in alphabetical order so it's easy to find information on your own pet's particular problem.
Pictures of each problem are placed immediately above the description of the problem to make it easy to select and follow the right treatment plan.
A detailed index at the end of the book (pdf version only) takes you right where you need to go when you're searching for more detail. Indexing is a long and tedious process, and it's often left out of eBooks, but not this one! In an emergency, you need to be able to find what you need instantly.
In the mobile version of the e-Book (Kindle, iPad/iPhone, Nook), just enter your search term in the search box to instantly find what you are looking for - even easier than using the index !
So how much is ensuring your pet's well-being worth?
You would have to pay hundreds of dollars to assemble enough books to cover all aspects of treatment in this one book. Books focusing on dogs, on cats, on behavior problems, chronic illness, and even trauma.
Then, you'd have to find books on herbal remedies - presuming you already know which ones are safe for dogs, which are safe for cats (there are big differences - some that are completely safe for dogs are toxic for cats) and which could cause complications (including death).
Add to your cart books on dental health, acupressure, and homeopathy.
Why go through all of the time and expense when I've already done it for you? Plus, I've tested the results!
For a fraction of the time and money that it would take for you to learn how to care for your pet safely and effectively, I'm offering Veterinary Secrets Revealed, Second Edition for only $47.
What's the REAL Cost of
Veterinary Secrets Revealed?
If you are wondering whether you can afford my healing system, consider this:
The current average cost for ONE SINGLE VISIT to the Vet Clinic is $180.00.
The average yearly Vet Bill for one dog is $395.00, and $244.00 for one cat (AVMA, 2006).
And if you have more than one pet? The average annual bill for multiple pet households is over $1000.00.
For every visit to your Vet that Veterinary Secrets Revealed helps you avoid, you'll save over $100.
But the BEST thing is, with my book you will save several trips to your vet - Veterinary Secrets Revealed will pay for itself over, and over, and over again. But each time you visit your Vet, you'll pay again... and again... and again.
I want to be sure you have the time to really try some of the remedies in the book and make sure they work for your pet. So I'm giving you my 60 Day, 100% Satisfaction Guarantee: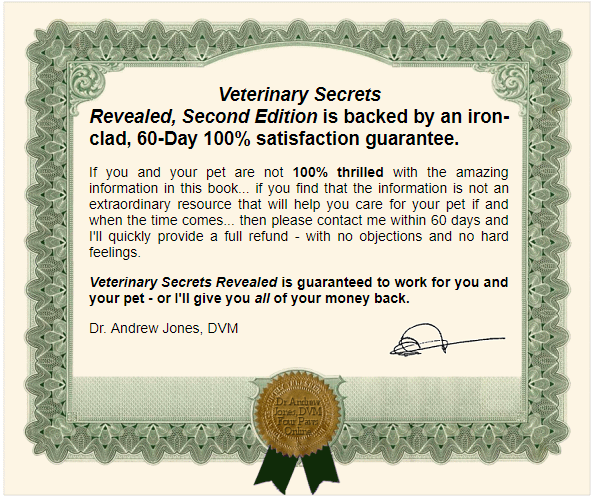 Get Instant Access - Even If It's 3 A.M.
When you click the button to download your copy, you get instant access to all of the information.
That means you can relieve your pet's discomfort within the next 2 minutes, no matter where in the world you are or what time it is (even if it's 3 a.m. on a Sunday!).
As mentioned above, Veterinary Secrets Revealed, Second Edition is available in all e-Reader formats: ePub for iBooks (iPad/iPhone/iPod), Nook, Kobo, Sony, etc, and mobi for Kindle or your Kindle App, as well as PDF for your laptop or desktop computer.
With e-Readers, it makes it easy to search and find the information you're looking for.
Veterinary Secrets Revealed, Second Edition is a 500 PAGE Manual - it is not simply an 'e-book'.
You can read it on your computer or e-book reader, or you can easily print it out and have it ready to refer to on a moment's notice, should your pet suddenly need the information I've provided.
Order now to ensure your pet's safety and well-being. You can order on our safe, secure server and receive the book immediately.
Veterinary Secrets Revealed
"PRIORITY" Order Form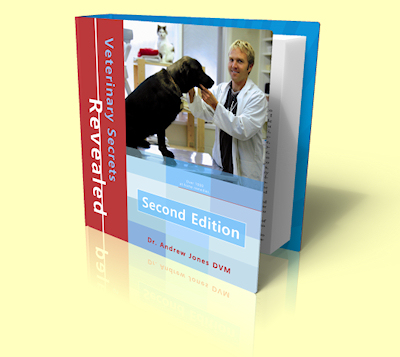 "

Veterinary Secrets Revealed

is the definitive manual for solving your pet health problems with natural, at-home remedies...



No pet owner should be without this e-book."



- Dr. Jeff Serfas,

Forestburg Animal Hospital
I understand that my order will be processed on a totally secure server.
I understand that once my order is processed, I will be able to immediately download Veterinary Secrets Revealed, so I can start healing my pet RIGHT NOW!

I understand

that I can download Veterinary Secrets Revealed in e-Reader (Kindle, Nook, iPad/iPhone/iPod, Sony, Kobo ~ all e-Reader formats) as well as a PDF format for my computer - I will have access to all versions of the book, and can refer to it whenever and wherever I want.

I understand that I have 60 days to test

each and every bit of information in your book and if I and my pet are not 100% thrilled with the amazing information,

I'll get a full refund.
Click the order button above to
get your download RIGHT NOW!

Order now to start examining, diagnosing and treating your pet at home with "Veterinary Secrets Revealed, Second Edition".
Looking for the printed/hard copy version? It's available here.
You know it's the right thing to do for your pet. And you have 60 Days to see if this information works for you (you can get your money back at any time within that 60 days!).
Obviously, there's no risk involved - only security and peace of mind. Please prepare yourself to provide better care for your pet in any situation, for your pet's sake.
I look forward to hearing about your pet's improved health, happiness, and vitality!
To your pet's good health,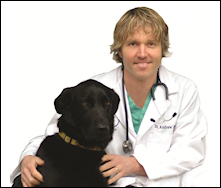 Dr. Andrew Jones, DVM
Nelson Animal Hospital
P.S.
- I know you and
everyone who truly loves their pets
will want to provide for their safety and well-being. So why wait? Order now and you'll be prepared for whatever the future brings to you and your pet.
Click here to order now.
P.P.S.
- Remember that
you have a full 60 days to use the information
, and if you change your mind, you'll get all of your money back.
P.P.P.S.
- Compared to just a single visit to your Vet, my book is an absolute
bargain
. For every trip to the Vet that it helps you avoid,
you'll save money.
And I KNOW it will help save you
many
trips to the Vet.
Save Money starting today - Order NOW!


Copyright © 2004 - 2021 Four Paws Online Ltd. All Rights Reserved Worldwide.